Buying On Coinbase
Using the Coinbase app for the first time can be stressful. Not only are you about to invest money which can be nerve racking by itself, but you have never used this app before. So let me help you make your first purchase and alleviate some of that stress.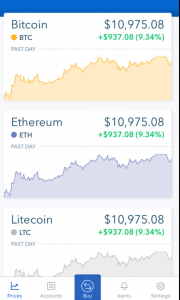 Open your Coinbase app and if you have not made an account yet you will want to do that first. You can then connect your bank account, credit, or debit card.
I recommend connecting a bank account and then either your debit or credit card. The fees are less for a bank account but it takes longer for your bitcoin to get deposited to your account. You can speed this process up by depositing regularly and building your trust with coinbase. We currently have an instant ACH withdrawal deposit limit of 10k per week. The funds are then pulled at a later date.
Once your account is setup you will see the screen on the right. Click on Bitcoin.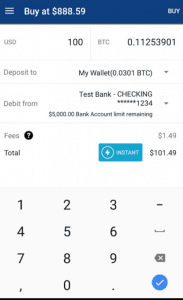 In the USD section enter the amount you want to buy. The Deposit to section is going to your bitcoin wallet on coinbase. Debit from is where your US Dollars are coming from.
If you connected a bank account, debit, or credit card you can choose where you want the money to come from here. After that you click the next button in the top right corner of your screen. In this picture it is the buy button. You will be taken to a confirmation screen where you can confirm your buy.  From this app you can buy Ethereum and Litecoin the same way.
Congratulations, you have just purchased your first crypto currency.
-The AboveCrypto Team